The Sauce
Keaton's "Original" Barbecue Sauce
What's New:
Hurry In:
March 21, 2011
Hurry in to our restaurant today for an outstanding dining experience. You may also place your order on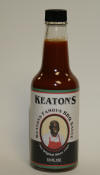 line for fast, inexpensive delivery of Keaton's Original Barbecue Sauce for your American kitchen. Keaton's Original World Famous Barbecue sauce is designed to wake up the flavor in all meats and is designed to meet your culinary needs. Keaton's is a product you'll cherish for a life time.

The Secret Sauce
"Original" Since 1953

For 50 years, Keaton's Barbecue, Inc. has marketed this savory sauce globally. The secret to their renowned barbecue chicken is this delicious barbecue dip. Don't take our word for it, order today and see for yourself.

The secret to Keaton's Barbecue Sauce is that it is a delicious dip in which you submerge your fried or baked chicken after it is brown and tender. Your taste buds have never had it Sooooooooooooo Good!

How to prepare the sauce:
1. Shake Keaton's Barbecue Sauce well before use.
2. Mix 10oz. Keaton's Barbecue Sauce to 10oz. of water.
3. Pour into a skillet or saucepan.
4. Bring to a boil under high temperature.
5. Reduce heat to low setting.
6. Simmer for 5 minutes.
7. Let Keaton's Barbecue Sauce stand for 2 minutes in the sauce pan. You are now ready to dip your chicken. Dip fried or baked chicken into Keaton's Barbecue Sauce and ENJOY!

Pricing

Quantity
Price
Tax
Shipping
Total
1 10 oz. bottle
$5.30
$.37
$2.64
$8.31
1/2 case
$63.60
$4.45
$17.68
$85.73
1 case
$127.20
$8.94
$24.33
$160.47

Click on the button below to proceed to the Keaton's Barbecue, Inc. order form.