Welcome
Keaton's Barbecue, Inc.
What's New:
Hurry In:
March 21, 2011
Hurry in to our restaurant today for an outstanding dining experience. You may also place your order on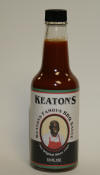 line for fast, inexpensive delivery of Keaton's Original Barbecue Sauce for your American kitchen. Keaton's Original World Famous Barbecue sauce is designed to wake up the flavor in all meats and is designed to meet your culinary needs. Keaton's is a product you'll cherish for a life time.

Welcome To Keaton's Barbecue, Inc. On The Web!
We are delighted that you have taken an interest in Keaton's Barbecue, Inc. Since 1953, the "Original" Keaton's Barbecue sauce has delectably satisfied millions of palliates and provide a distinctive taste. At Keaton's Barbecue, Inc. we take great pride in our restaurant, savory menu items, dedicated customers, local supporters and web visitors. In particular, we wish to thank The Splendid Table and Roadfood for outstanding reviews. Please share in our pride by reading their reviews listed in the links below. Thank You!!!!!!!


Keaton's ranked #12 in Tar Heel Top 25 Restaurants.
Click here for Charlotte Observer Article!



Click here to listen to the Splendid Kitchen
Podcast and Reviews on our restaurant.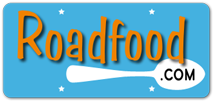 Click here for Keaton's Roadfood Review.
Keaton's featured on UNC TV's
Video Time 14:54


Keaton's Featured In Our State Magazine
Click Title To Read Article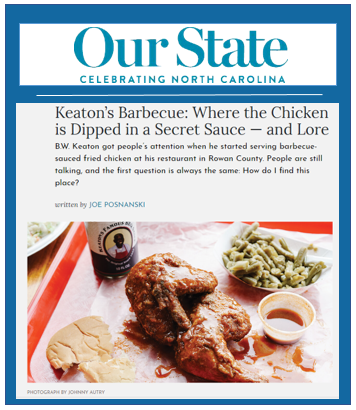 Spring Hours: (April - September) 11am - 2pm ♦ 5pm - 8pm 
Winter Hours: (October - March) 11am - 2pm ♦ 5pm - 8pm 
NEW SUMMER HOURS:Tuesday thru Saturday 11am - 2pm ♦ 5pm - 8pm 
Closed - Sunday and Monday


Holiday Hours: Closed Christmas Eve (December 24), 
Christmas Day (December 25), New Year's Eve (December 31), 
New Year's Day (January 1) and Inauguration Day (January 21). 
Thank You For Visiting